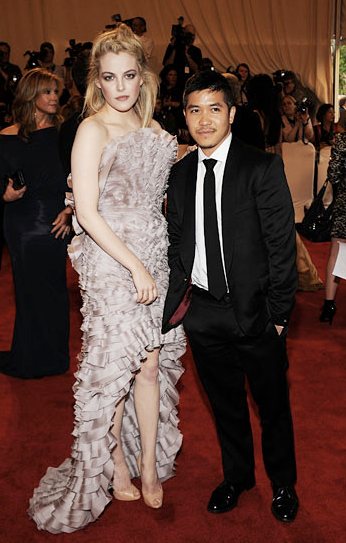 Riley Keough in Thakoon for Gap, with Thakoon Panichgul.
Kerry Washington wearing Thakoon for Gap.
The MET Gala was held last night, celebrating the opening of the
Costume Institute's American Woman Fashion Exhibit
. The exhibit is sponsored by GAP, and this time GAP was also present in the MET Gala red carpet for the first time.
Sharon Stone wore GAP white shirt for the Oscars 1998, making a memorable GAP red carpet debut. GAP has never since been seen on red carpet until yesterday. And while Sharon Stone looked smoking in 1998, I think it is only for the best GAP doesn't make too many appearances at the red carpets.
Kirsten Dunst in Rodarte for Gap.
What is different this time around, and why even I welcome GAP from the malls to the red carpet – GAP hired designers to create the MET Gala dresses to dress selected celebrities. Most of the dresses are pictured here – in addition to the pictured, Alexander Wang also designed clothing for Zoe Kravitz and Rodarte dressed Jamie Bochert. While I don't think these gowns are the best picks from the MET Gala, they are beautiful and I think the designers did very good job making the dresses for the different personalities, and they show a lot of individuality.
Vera Farminga in Sophie Theallet for Gap.
M.I.A. in Alexander Wang for Gap.
The last… and my personal favorite is this beautiful gown Sophie Theallet created for Jessica Alba.
Jessica Alba in Sophie Theallet for Gap.
All of these gowns designed by Alexander Wang, Rodarte, Sophie Theallet and Thakoon will be up for auction starting May 5th at
www.gap.com/gownauction
, and all of the proceeds will go for The Metropolitan Museum of Art in support of The Costume Institute. You are also able to see the dresses at GAP's store at 680 Fifth Avenue at 54th Street in New York City. Photos: NY Mag.